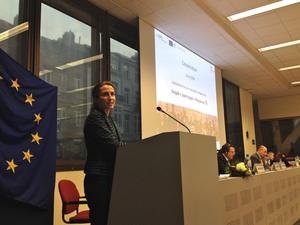 BalticMuseums represented by Susanne Marx at European Tourism Conference. Successful cooperation in coastal and maritime tourism in Europe was the topic of the  European conference: "Smart cooperation in coastal and maritime tourism – Encouraging transnational partnerships through clusters and networks" in  Brussels, 20 January 2015.
The European Commission had invited speakers from all the European coastal areas to demonstrate their experiences with local and transnational cooperation and their visions for the future. The BalticMuseusms projects were presented by Susanne Marx, BalticMuseums information manager on behalf of Stralsund University of Applied Sciences. Not only the successfully launched eGuides were presented, but also the technical means applied for cooperation and mutual promotion, the developed skills of team members and the vision for both a regionally and a content-wise enhanced cooperation at the crossroads of ICT, museum services and tourism. About 230 representatives of clusters and networks, national and regional representatives, nautical associations, cruise, chambers of commerce and SMEs from all European countries took part in the conference. Mr. Pedro Ortùn, Director in charge of Service industries at the European Commission, emphasised the importance of cooperation even beyond competition, the need to exploit ICT and the cooperation across industries with the common target of smart and sustainable growth.
Presentation of Susanne Marx, BalticMuseums information manager: "BalticMuseums – Overcoming seasonality in coastal and maritime tourism by building partnerships. A Blue Growth network for Europe?".